2021 5th International Conference on Sensors, Materials and Manufacturing
Sensors are widely used in many different applications, and sensor technology has become a basic enabling technology in many instances. New types of sensors are made possible with new materials that are produced using advanced processing technologies.
2021 5th International Conference on Sensors, Materials and Manufacturing (ICSMM 2021) will be held in University of Macau, China during November 19-21, 2021.
We strongly believe that ICSMM 2021 will be a remarkable event which can bring together professors, researchers and students in the field of sensors, materials and manufacturing making the conference a perfect platform to share experience, foster collaborations across industry and academia, and evaluate emerging technologies across the globe. You are cordially invited to submit your recent research work to the ICSMM 2021.
Notice: Considering the travel restriction and quarantine requirement, it's still not appropriate to hold the conference offline. The ICSMM conference committee discussed this matter and finally decided to host ICSMM 2021 online. Access to online platform will be sent to all delegates via email. Thank you for your understanding and support!
Conference Proceedings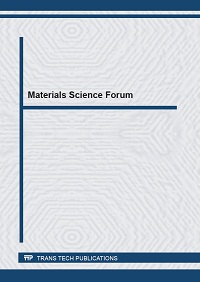 After a careful reviewing process, accepted papers after proper registration and presentation, will be published into Materials Science Forum(ISSN print 0255-5476 / ISSN web 1662-9752), which is indexed by Ei Compendex, Scopus.
Plagiarism is stirctly forbidden in any academic conference, the articles submitted should be original and unpublished. Any Violations will be dealt with seriously in accordance with the policy.
Key Engineering Materials: Volume 891. [ISBN: 978-3-0357-1789-1] Online Linkage
Solid State Phenomena: Volume 305. [ISBN: 978-3-0357-1657-3] Online Linkage
Material Science Forum: Volume 962. [ISBN: 978-3-0357-1416-6] Online Linkage
IOP Conference Series: Materials Science and Engineering, VoL.311. Online Linkage
ICSMM 2021 Speakers
Professor Feng Xing, Shenzhen University, China
深圳大学,邢锋教授 (广东省教育厅副厅长)
Dr. Feng Xing is a distinguished professor of Shenzhen University, and currently he is deputy director-general of the Department of Education of Guangdong Province. Prof. Xing received his BS, MS, and PhD degrees from Tsinghua University. He is the author of 4 book chapters and 400+ papers (123 SCI). He holds 37 authorized invention patents, which includes 4 US patents and 2 European patents.
Professor Kwang Leong Choy, University College London, UK
Professor Choy obtained her D.Phil. in Materials Science from the University of Oxford, where she was awarded the Hetherington Prize and Oxford Metallurgical Society Award. Professor Choy is now a Director of UCL Institute for Materials Discovery and Professor of Materials Discovery at University College London since February 2014.
Professor Hui Pan, University of Macau (UM), China
澳门大学,潘晖教授
Dr. Hui Pan is a full professor in the Institute of Applied Physics and Materials Engineering and Founding Head of Department of Physics and Chemistry in the Faculty of Science and Technology at the University of Macau. He has published more than 170 papers in international peer-reviewed journals, such as Phys. Rev. Lett., Phys. Rev. B, Adv. Mater., Chem. Mater., ACS Nano, and J. Phys. Chem. B&C. The total citation is more than 8500 (google scholar) / 6970 (SCI). Additionally, he is the author of 5 book chapters and the inventor of 4 USA and 4 China patents. His present h-index is 45 (google scholar) / 41 (SCI).
Professor Shen-Ming Chen, National Taipei University of Technology, Taiwan
台北科技大学,陈生明教授
Prof. Shen-Ming Chen received three times Distinguish Professor awards. He also received three times Outstanding Research Award from National Taipei University of Technology, Taiwan. He have edited or attended two books for NOVA publications titled "Nanostructured Materials for Electrochemical Biosensors" and "Biosensors: Properties, Materials and Applications" and contributed four book chapters.
Prof. Han-Yong Jeon, Inha University, South Korea
Prof. Han-Yong Jeon was elected the 32nd President of Korean Fiber Society (2014~2015). He has awards of Marquis Who's Who - Science and Engineering in 2003~2014 and Top 100 Scientists in the World: 2005/2011 of IBC (International Biographical Centre, UK). Also, he got the 33rd Academy Award of Korean Fiber Society in 2006.
Contact
For enquiries regarding the Submission System, Format Template, Submission, Review, Acceptance, Manuscript Submission, Copyright Transfer Form, please contact the conference secretary as below:

Ms. Elva Zhang
icsmm@cbees.net

+86-28-87577778
Add our wechat for instant reply
Follow us on social network